Implant-supported Dentures
Dr. Bruce Watkins provides implant-supported dentures at our office in Elkhart, IN, which can significantly improve comfort and functionality of your dental prosthetics. Dental implants are an excellent restorative treatment option for patients with missing or badly damaged teeth and for those who currently have conventional dentures.
Implant-supported dentures typically require four to eight implants. An implant is not needed for every missing tooth. Implants are placed strategically to offer the most stability and health benefits. Patients in need of a partial denture may need just four implants in the upper or lower jaw, or both.
Dr. Watkins offers the All-on-4® method, which uses an advanced metal guide for precise implant placement. He also offers mini implants for patients who are just missing their front-facing teeth. Patients who need full dentures may require six to eight implants in either the upper or lower jaw, or both.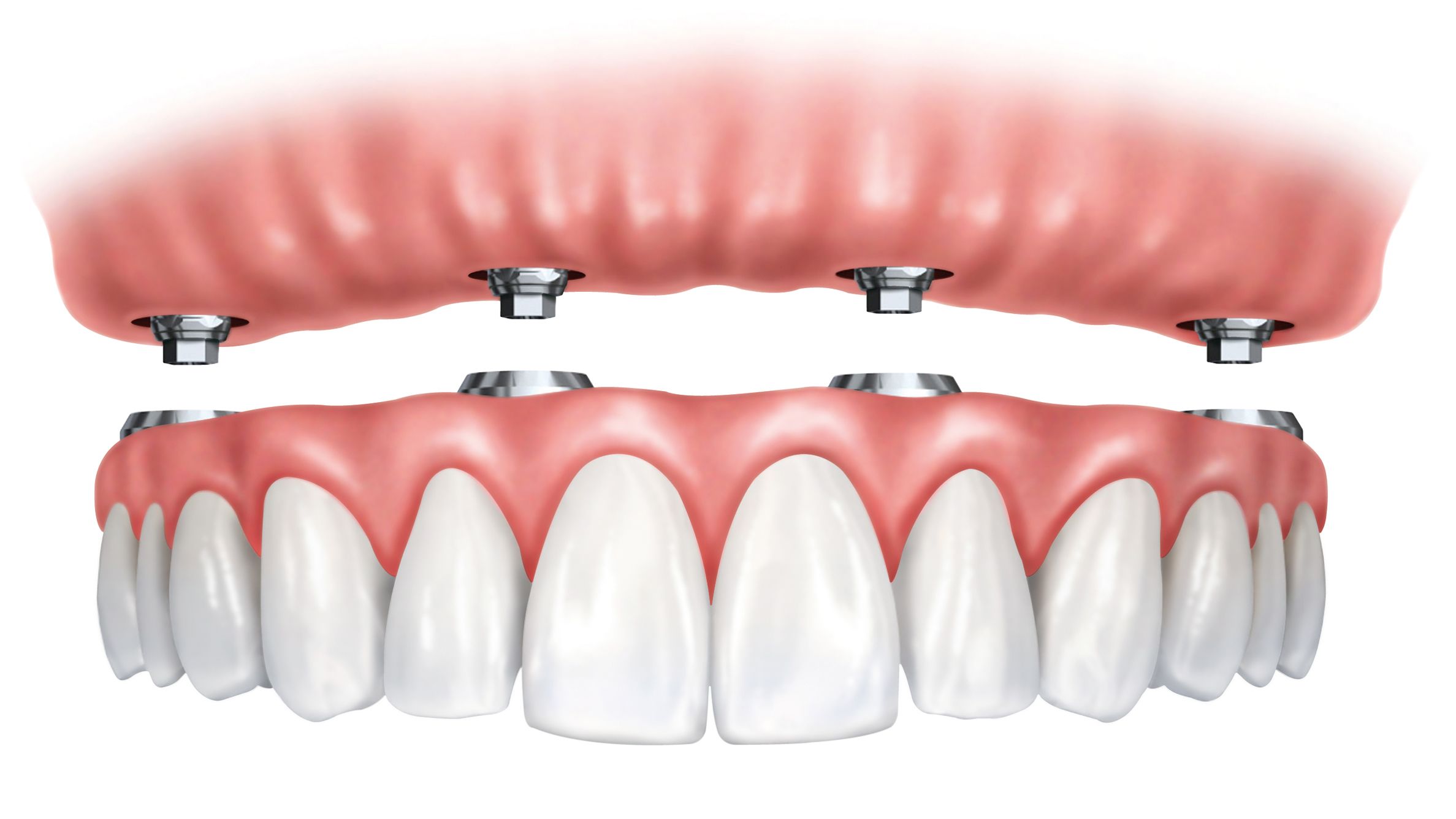 Types of Implant-supported Dentures
Implant-supported dentures are a type of overdenture made up of natural-looking prosthetic teeth on a base that blends in with the gums. The denture may be anchored directly to the implants (fixed) or with a retainer device (removable).
Fixed
This kind of denture attaches directly to implants through small holes drilled in it. Dr. Watkins covers up the holes after it is in place, so that the denture is secured at all times except when he removes it for periodic cleaning and maintenance. Dr. Watkins prefers the Prettau zirconia bridge, because it is beautiful and looks extremely natural. Made from solid zirconia, the hardest dental material in existence, this type of implant restoration will not chip or break. It is also one-hundred-percent biocompatible.
Removable
This type of denture uses special LOCATOR Attachments to anchor it to the implants. The denture clips or snaps into place, which allows the wearer to remove their own denture for cleaning. The attachments have the ability to be customized to different levels of rentention, and they pivot to provide a high degree of durability. The pivoting action of the LOCATOR Attachments and its self-aligning design make it very easy to remove. This system also requires fewer implants than a fixed overdenture system.
Candidates
Patients who are missing a significant number of teeth, or all of their teeth, may be candidates for implant-supported dentures. Patients who currently have conventional partial or full dentures may also be candidates. Periodontal disease and other oral conditions must be treated prior to dental implant surgery. Dental implants require a sufficient amount of jawbone tissue for support. Patients with insufficient tissue may need to undergo a bone grafting procedure to improve eligibility for implant dentures. Undergoing a bone graft increases the duration of the overall treatment, as the jaw takes four to six months to heal before it can receive implants.
It is also important to quit smoking prior to the surgery and during the recovery period. Patients must be in good overall health and be willing to commit to proper oral care.
Dental Implant Procedure
Prior to your procedure, you will have a consultation with Dr. Watkins at Watkins Family Dentistry to determine your candidacy for treatment. If he recommends any preliminary treatments or procedures such as a bone graft, they must be completed prior to dental implant surgery. When you arrive for your implant surgery, you will receive a sedative. Once you are sedated, Dr. Watkins will create small incisions in your gum line for the implants. He will insert the titanium implant posts into the jaw along with a supplement to stimulate healing and bone growth. It takes three to six months for the implants and jawbone tissues to fuse together. You may receive a temporary restoration to wear during this time.
Before the implant-supported dentures are created and installed, you must have the implants placed.
Once your gums have healed and the implants are properly integrated with your jawbone tissues, Dr. Watkins will use our GALILEOS® CBCT 3D scanner to design your final partial or full dentures. Your prosthetic may then be created on-site using CEREC® technology, or it may be crafted off-site in our partner dental laboratory. Once your partial or full dentures are ready, they will be attached to your implants for a permanent, stable, and natural-looking restoration.
Benefits of Implant-supported Dentures
While implants almost always involve an out-of-pocket cost, implant dentures offer a number of benefits that justify the investment. Implant-supported dentures are a permanent, non-removable restorative solution that offers stability, strength, and comfort that conventional dentures do not. Additionally, they are much easier to care for than conventional dentures.
Because they are non-removable, you simply care for your implant dentures in the same way you would care for your natural teeth. Implant-supported dentures improve your oral health by halting jawbone recession and drawing necessary nutrients to maintain the bone. Implant dentures look and feel natural, improving your appearance and your confidence.
Schedule Your Consultation
Implant dentures offer improved function and aesthetics, including the ability to chew and speak confidently, without fear of your dentures slipping out of place. If you want to experience the benefits of implant-supported dentures, contact Watkins Family Dentistry to schedule your consultation.