Implant-supported Bridges
Dr. Bruce Watkins offers patients high-quality dental bridges supported by dental implants for strength, stability, and a natural look and feel. A traditional dental bridge closes a gap of missing teeth and relies on the surrounding natural teeth for support. Implant-supported bridges work similarly, but do not rely on surrounding teeth for support. Dr. Watkins provides implant-supported bridges at our office in Elkhart, IN, because they provide long-lasting strength and stability. He utilizes porcelain or zirconia tooth-colored bridges whenever possible because of their strength and beauty. While some of the bridges are made in-office using our CEREC® machine, others are crafted in our trusted dental laboratory.
What is an Implant-supported Bridge?
Implant-supported bridges replace a small gap of two to four missing teeth. In some cases, an implant may be required for each missing tooth, depending on the number of teeth missing and their location. Dr. Watkins offers non-removable Prettau® bridges, which are crafted from zirconia for a natural-looking smile. He also offers a variety of other removable and non-removable implant bridge options.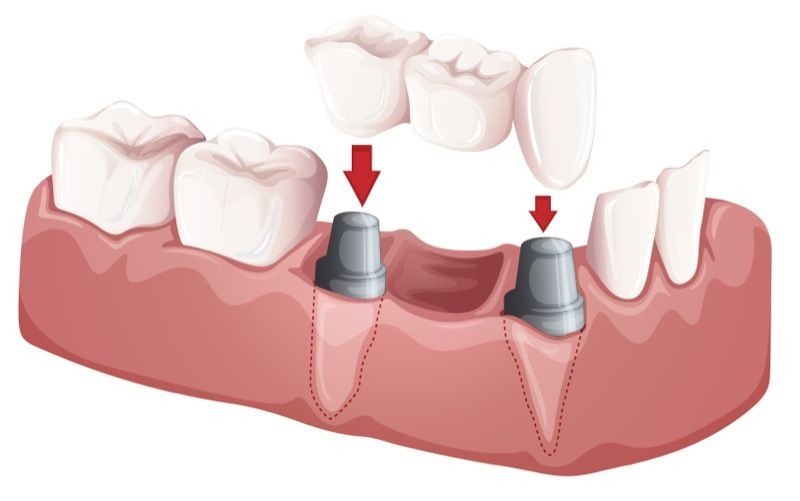 Candidates for Implant Bridges
Patients with a gap of several teeth in a row may be candidates for an implant-supported bridge. Sufficient jawbone tissue is required to support the implants. Patients with insufficient tissue may need a bone grafting surgery prior to dental implant surgery. Patients should keep in mind that undergoing a bone graft increases the duration of their overall treatment, as the jaw takes four to six months to heal before it can receive implants. Patients should have good oral and overall health, free from tooth decay or gum disease. Any oral conditions must be treated prior to receiving dental implants. Patients should stop smoking before dental implant surgery and during recovery, and should be willing to commit to proper oral hygiene practices to maintain good oral health.
Implant Bridge Procedure
You will have a consultation with Dr. Watkins prior to any procedure to determine your candidacy for treatment. If any preliminary treatments are recommended, they must be scheduled and completed before your dental implant surgery. Scans will be taken of your mouth to plan ideal implant placement. When you arrive at our office for your dental implants, you will be given a sedative. Dr. Watkins will then make incisions in your gums where the implants will be placed. The titanium implant posts will be inserted into the jaw with a supplement to promote healing and bone growth. It can take three to six months for your implants to fuse to your jawbone tissues. You may receive a temporary dental bridge to wear during this time.
Implant-supported bridges are permanent, non-removable, and more stable than traditional bridges.
Once your implants have fully integrated with your jawbone tissues, you will return to our office for the fabrication and placement of your implant bridge. Scans of your mouth will be taken with our GALILEOS® CBCT 3D scanner. Your bridge may be crafted in our office using our CEREC® technology, or your scans may be sent to our trusted dental laboratory, where technicians will manufacture your bridge. It may take up to two weeks to get your bridge from the laboratory. Once your customized bridge is ready, it will be attached to your implants for a strong, functional, and natural-looking smile.
Benefits of Implant Bridges
Patients may opt for an implant-supported bridge in spite of the cost because of the numerous benefits it offers over a traditional bridge. In most cases, implant-supported bridges are permanent, non-removable, and more stable than traditional bridges. They offer improved functionality and the ability to speak and chew freely. Non-removable implant bridges are cared for just as you would care for your natural teeth, making them simpler and more convenient than traditional, removable bridges. An implant-supported bridge improves your oral health by preventing the bone loss that occurs after a tooth is lost. They also do not rely on the surrounding natural teeth, so no alteration of healthy teeth is necessary. Implant bridges are designed to look and feel natural so you can feel confident when you smile.
Schedule Your Consultation
If you are missing several teeth and want to find out if implant-supported bridges are beneficial for you, contact Watkins Family Dentistry to schedule your consultation. This procedure can restore both the aesthetics and functionality of your smile, and preserve the health of your jaw.