Oral Cancer Screenings: An Important Part of Your Preventive Care
Early diagnosis of oral cancer can result in less invasive cancer treatments. That is why our practice in Elkhart, IN, provides oral cancer screenings as part of our commitment to providing exceptional preventive health care. The quick and convenient test can be performed during your routine dental examination and cleaning. Dr. Bruce Watkins at Watkins Family Dentistry can look for the signs of oral cancer through a visual inspection of your mouth and gums and through advanced imaging technology.
The Benefits of Screening for Oral Cancer
More than to 50,000 Americans will be diagnosed with oral cancer this year, according to the Oral Cancer Foundation. Patients who are screened for this form of cancer can benefit from:
A quick and easy procedure: Dr. Watkins will perform your oral cancer screening by examining your lips, cheeks, tongue, gums, and mouth. The process only takes a few minutes and can be completed during your routine dental cleaning and exam.
Affordability: Oral cancer screenings typically only add a small fee to the cost of your dental exam, and are usually covered under dental insurance. Discovering a cancerous growth early could save money by reducing the need for cancer-fighting treatments.
Early treatment of cancer: Undergoing routine oral cancer screenings can help identify cancer early and allow patients to complete cancer treatment in its earliest stages.
What Are the Symptoms of Oral Cancer?
Individuals who use tobacco or abuse alcohol are at a higher risk for oral cancer. Oral cancer is also more prevalent in men over the age of 50. When screening for oral cancer, Dr. Watkins may be searching for:
White or red patches on the soft tissues of the mouth
Sores that do not heal quickly
Lumps along oral tissues
Difficulty chewing or swallowing
Bleeding sores
Reduced jaw flexibility
Chronic sore throat
Loose teeth
Changes in the quality of the voice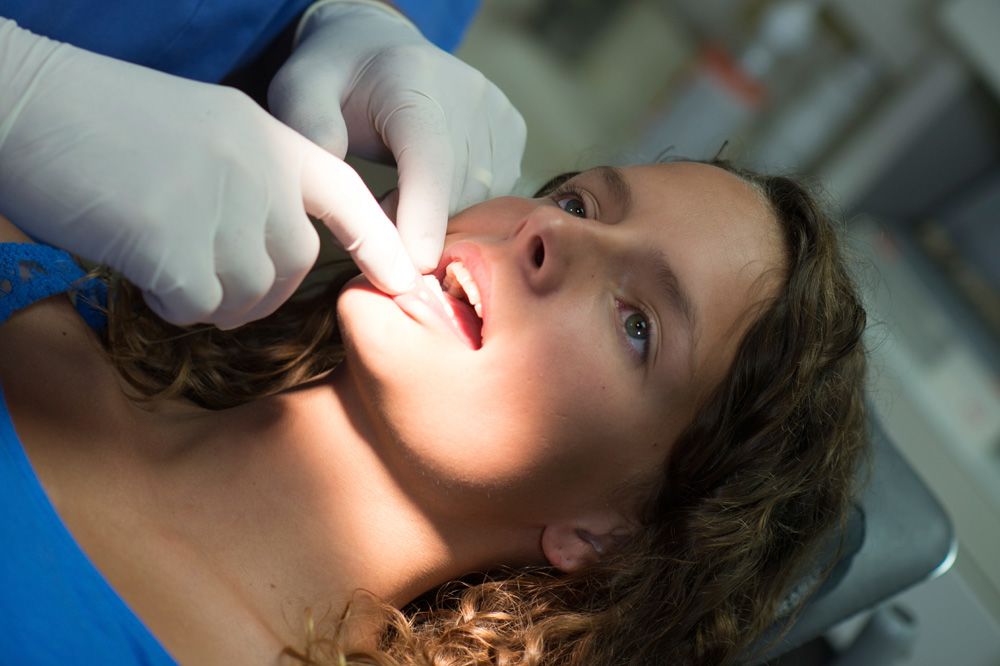 What to Expect during Your Screening
During your oral cancer screening, Dr. Watkins will perform a visual inspection of your mouth and throat, searching for abnormalities in your oral tissue. Our clinic uses advanced Sapphire® Oral Cancer and Lesion Detection Light. The advanced system has significantly improved our ability to identify early signs of oral cancer. The device provides enhanced visual information that the eye alone cannot see. If any suspicious lesions or growths are found, a biopsy will be performed.
As with any form of cancer, early detection is key. Our office uses state-of-the-art technology to detect oral cancer early.
If a biopsy if required, this involves removing a small piece of tissue so it can be examined under a microscope. You will be immediately informed of the results. Our office can refer you to a local specialist if cancer treatment is needed. Early detection is key to improving the likelihood of successful cancer treatment.
Contact Watkins Family Dentistry Today
As with any form of cancer, early detection is key. At Watkins Family Dentistry, we use state-of-the-art technology to detect oral cancer early. Dr. Watkins has more than two decades of professional experience screening and diagnosing oral cancer. If you show symptoms of oral cancer or simply wish to undergo an oral cancer screening, contact our office immediately. If you have concerns about the affordability of your dental services, our office accepts CareCredit® and LendingClub® financing options. You can reach our dental staff by sending us a message online or by calling (574) 293-9832.